A heaven on earth, a contrast between the beauty of its beaches and the chaos in its cities. Undiscovered corners of the earth, humanity, helping hands, friendship and never-ending relaxation. The Philippines is not only a journey into the unknown but also a journey to realize one of the most precious and valuable things in life – time. Why don't you dream with us about a destination that will captivate you and is ideal for those who are looking for something "DIFFERENT" for their next vacation.
The Philippines and its 7000 islands
A never-ending tangle of small and big islands. Over 2000 are uninhabited and 2000 have not even been named. It is not a problem to buy one or two, of course I'm exaggerating a little bit, if you have enough capital and if you can even make a choice from their, at times almost kitsch, perfect beauty. It is not difficult to fall in love with the Philippines and you literally want to grow old on one of these stunning islands. But what if the next one, or the third one is even more beautiful? And this inability to decide which is the "best" island is exactly what you can experience. You will want to go everywhere and see everything. This beauty will devour you and you will never get tired of it. However, do not forget that everything in life is about balance. So where there is peace and harmony, there is also chaos, where we have beauty there is also something "else" – this personifies the Philippines experience. Full of contrasts, full of wealth and poverty too. The Milliard Sun editor's office staff did not waste any time and set out on a long expedition. The purpose of the journey was to bring you a compass that you can use to navigate this country, which is really worth a visit.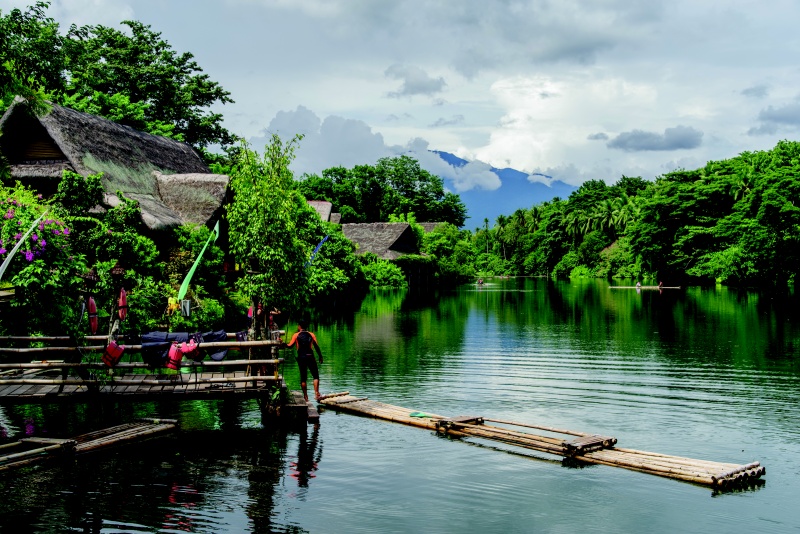 Our orientation begins right in the heart of the Philippines, in the capital of Manila. Using the word "capital or city" is in this case extremely inaccurate because around 14 million people consider this giant to be the most densely populated metropolis' of the world. There are many people living here, but one of the things the Philippines teaches you is mutual understanding. You get endless help from people who really have nothing in life, but they are always ready to help you in any way they can and give you what they do not even have themselves. You get accustomed to the fact that a stranger greets you and wishes you a nice day, which is unthinkable in our parts of the world, right?
The first steps from the city's bustle takes one a bit further, into more remote parts of the country. Steps are just a metaphor, and travelling has not ended with our arrival in Manila. You quickly realize that if you want to see these areas you will have use local transportation that at times reminded us of an overview of transportation history. You will use different ships and boats, use local "tricycles" and "jeepney" but you will enjoy it all because these modes of transportation contribute to that "DIFFERENT" experience that is typical of the Philippines.
We landed in Puerto Princesa on the island of Palawan, located in the southwest of the country. We did not hesitate and immediately started on a trip to the Underground river which is carved into a huge rock that you can swim across or travel on in a kayak or a small boat.
However, do not forget to take a  flashlight, as you will see about a million bats hanging above you in this huge cave.
A private minibus took us across the entire island to one of the most beautiful places on earth – El Nido.  This is exactly the place where you will understand what is meant by the contrast we mentioned earlier. Yes, it is true that you can choose a luxury five-star resort to avoid the local reality, but it depends on your discoverer's spirit whether you will try something "DIFFERENT"…
The town actually offers the true Philippine chaos, the true Philippine atmosphere of miniature houses built on top of each other. When you look at all those carefree people around you, you immediately realize that tangible property in anyone's life is only a simple whim of the society.
From the town of El Nido, you can take daylong boat trips called "Island hoping", Tour A or Tour C. They are among the most sought after and its where you will find paradise on earth. During the trip you will visit five or six small islands and we guarantee that you will want to stay on each of them for the rest of your life. Turquoise and crystal clear water, palm trees and perfect sand. Coconuts directly from a tree and exotic fruits are served during lunch on the beach. There are beautiful sea lagoons surrounded by unspoiled and undiscovered jungle. You will be in ecstasy and ask your partner to pinch you to make sure you are not dreaming. You can swing in a hammock strung up between the palm trees or play the most popular game of the locals – basketball. We certainly didn't know that you can play the game in sand. When snorkelling, you can swim through a narrow crevice in the rock and you will discover a hidden beach or a forgotten temple in which our ancient ancestors prayed and worshiped the gods. If this is still not enough, your adrenaline will certainly rise when you go for a Zipline ride stretched between two nearby islands and you can ride the rope over the beaches below.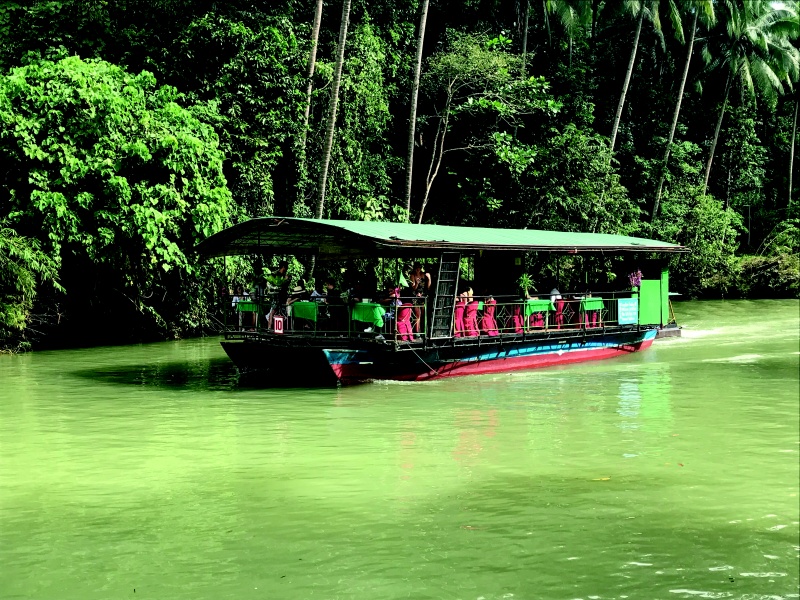 From El Nido, we headed off to Coron Island by speedboat.  "Speedboat" is not an accurate name as the journey lasted 5 hours. In the Philippines you will learn that time is a precious commodity. People don't really rush here and you will learn patience as well. When waiting for a local bus, you will enjoy a conversation with a local person waiting with you. When you ask what time the bus comes the answer will be, "today". Obviously puzzled you ask again whether in the morning or the afternoon and the answer is again simply "today". And so you wait and wait for the bus to arrive and just enjoy the surrounding town bustle, and then suddenly after two hours the bus actually arrives.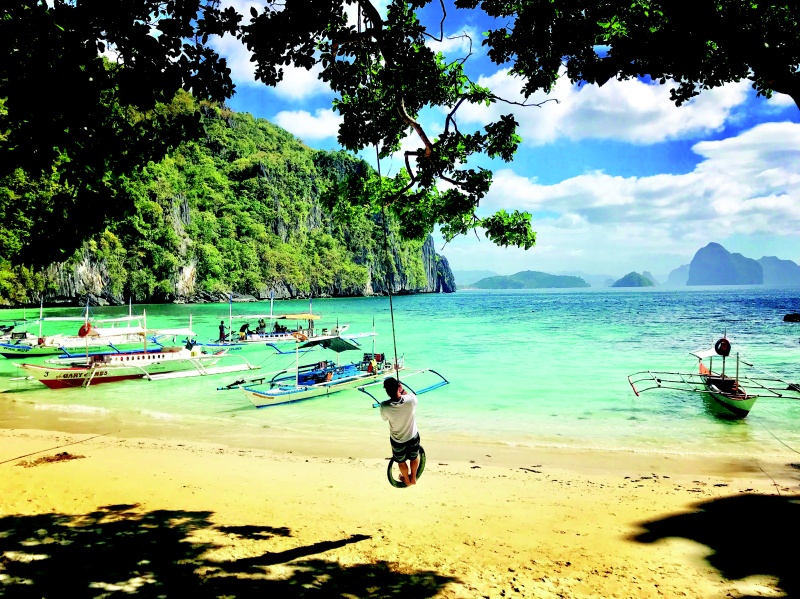 Coron Island is especially unique if you are a snorkelling and scuba diving fan. Every boat trip offers a diverse range of attractions. You can swim over a sunken war ship or dive through the depths of a pirates' shipwreck. They are really extraordinary opportunities and if you do not have a scuba diving certification, there is certainly no better place to get it than in the Philippines.
From the Coron Island we took off on a small motorized plane and landed right on the azure sea surface of the Boracay beaches. After relaxing comes fun, night life at one of the most sought after night spots. Take a photograph next to a sand title, enjoy the variety of fishing boats and adventurers' sailing boats, visit an exclusive restaurant, or go jump off the rock of the world-famous Ariel's Point.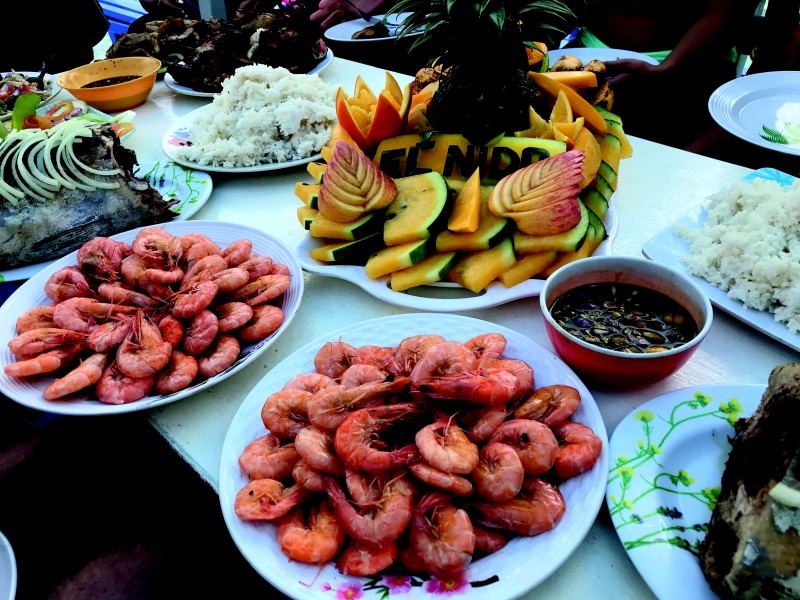 Have you ever tried to eat straight from the street? We mean food prepared directly on the sidewalk or on the road. Welcome to Cebu which is also the second largest city in the Philippines. If you are brave enough, you will find a variety of delicacies. Peel a Philippine egg, try a pig tail. If you are not sure what to choose look around. There is an infinite number of locals standing in lines for this, from our perspective, unusual food. City streets are filled with street cooks and you will not regret trying their food. Become true "food travellers" and you will be amazed by the quality of the food, and sitting right on the sidewalk will remind you of your childhood.
From Cebu, you can take a trip to the most unforgettable experience of your entire vacation –the town of Oslob and swimming with whales. A whale shark with a length of up to 14m and a weight of 12tons looks really terrifying but it is completely harmless. It feeds on plankton and therefore you can safely swim with it. Fascinating, isn't it?
On the way back, do not forget to stop at the Kawassan Falls. You take a walk through the jungle to an untouched waterfall. There is no need to describe how clean the water is because it is crystal clear. Jumping into the water, swinging on the rope and "canyoning" while crossing the jungle reminds you once again that the most beautiful sights on earth have been built by nature itself.
The next-to-last stop of our Philippine expedition was at Bohol Island which we got to from the port of Cebu with a ferry. We could easily travel everywhere on the island on rented motorcycles. The best known attraction of Bohol is the "Chocolate mountains". Do I see a smile on your face as you imagine a huge amount of chocolate that grows from the ground? No, no, it is another natural phenomenon when the grass changes colour to chocolate during the dry months. These are cone-shaped hills whose origin is not entirely clear, but we will go with the legend.
According to the local legend, the hills owe their creation to unrequited love. Giant Arogo loved a beautiful earth woman Aloyo and decided to kidnap her. But she rejected his love and the grieving giant simply cried away his sadness. The chocolate hills are fossilized tears of the unfortunate giant. This is the true origin for us, don't you agree?
On our way to the chocolate mountains, we stopped in the snake park so that we could face one of the biggest snakes in the world and overcome our fear. Again, you will feel the contrast when you stumble upon the Tarsier park. Miniature creatures living in trees are characterized by their huge, immobile eyes. They can rotate their head 180-degrees and their 6cm size will make you feel that you have just seen an alien. But that is not all. We walked through the Mahogany Forrest and the alley made from extremely high trees created a tunnel that forced us to stop and take another unforgettable photo. Of course, we became hungry again and had lunch right on the Loboc River which was a pleasant addition to the already extraordinary day. Our trip was not over with the river lunch and we were not planning on having any after lunch siesta either. Our attention was drawn to a crowd of screaming and yelling men. But it was nothing more than cock fights. You can bet, you can scream and yell, but you will not win millions here. Cock fighting competitions are very popular and definitely worth seeing.
Bohol is a really great place, but our expedition party moved back to Manila to end our journey there.
If you have been expecting to hear about shopping for the whole time you have been reading this article, you have waited long enough to hear about it. The SM Mall of Asia is the largest shopping mall in Asia and you can easily reserve a whole day to visit it. You will find everything there and you will probably have to buy an additional suitcase to take on the airplane with all of your purchases. If shopping is not how you would want to end your vacation, we still have one more great idea to offer you.
Villa Escudero Resort and a unique waterfall restaurant are about a 2-hour drive from Manila. You will find yourself at an old-world coconut plantation founded in 1880. You can visit the local fruit and vegetable growing museum or paddle on a bamboo raft on the lake. However, the main attraction is the restaurant and the way of dining under the waterfall. You sit down on bamboo benches. You are barefoot because the water is up to your knees, which you do not mind as your lunch is served on banana leaves. Time does not matter anymore and you can enjoy good coffee for hours…it is priceless.
There are still many places and areas we have not mentioned and that are still waiting for you to explore. There are many beaches and experiences waiting to be discovered. Set out on your small or large expedition across the Philippines and maybe this compass will help you as well.
Experience your own story and your own adventure and discover heaven on earth.
The Philippines is not a vacation for only a week. It offers so much that you will want to come back again or decide to live there forever.
It is the way it is, the nature is breathtaking, the sea is turquoise, people are kind and we live only once, so let's not only survive but let's enjoy it to the fullest!
Lukáš Kirka
Photos: Lukáš Kirka, Dreamstime
http://www.visitphilippines.org/travelguide