The Don Giovanni collection, a tribute to opera by Fornasetti, will be presented in Milan at the Fornasetti Store in November 2017. The official launch will be preceded by a world preview in London: from September the new furniture and accessories will be available exclusively from Harrods, an ideal partner for Fornasetti due to the focus on excellence within the world of design, showcased across the Home department on the Second Floor of the store.
The new series of furniture items was conceived as part of a broader creative project, deeply desired by Barnaba Fornasetti and aimed at promoting familiarity with opera and bringing it to the attention of a varied cross-section of the public. The first stage of the project took place in the Winter of 2016 with the production of the opera Il dissoluto punito, ossia il Don Giovanni, one of W.A. Mozart's finest masterpieces, and will continue in Autumn 2017 with the official launch of the CD, in collaboration with Warner Music Italia (Warner Classics label), which will reproduce the full soundtrack of the opera. With this intrepid venture, Fornasetti has managed to create a bridge between the Austrian genius and the surrealist vision of the Milanese Atelier.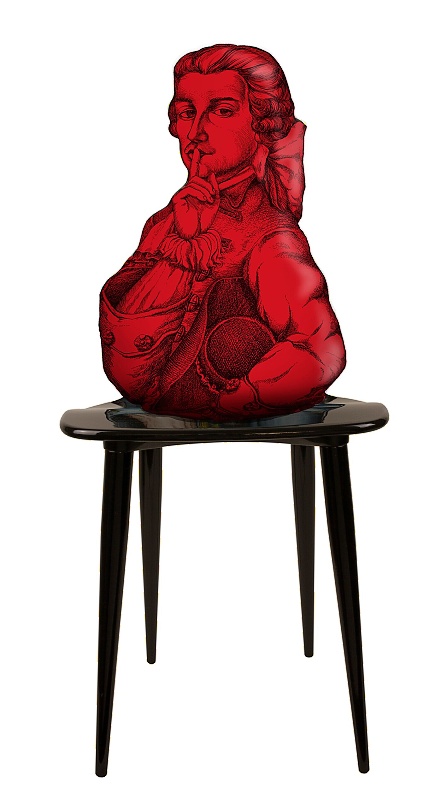 The creative inspiration for the new collection is the visual universe that emerged from this encounter. The decorations are taken from the stage sets of the Fornasetti version of Don Giovanni and reference its main themes: women's faces, hands that proffer or possess, masks, jugglers skilfully using sleight of hand and surreal forests reminding us of the dark side of Don Giovanni, the legendary provocateur and seducer.
The iconography of the vast archive has been reinterpreted and reorganised, demonstrating how the distinctive Fornasetti style can be used in the creative exploration of diverse artistic and cultural spheres, passing from decoration to theatre and music before returning to design.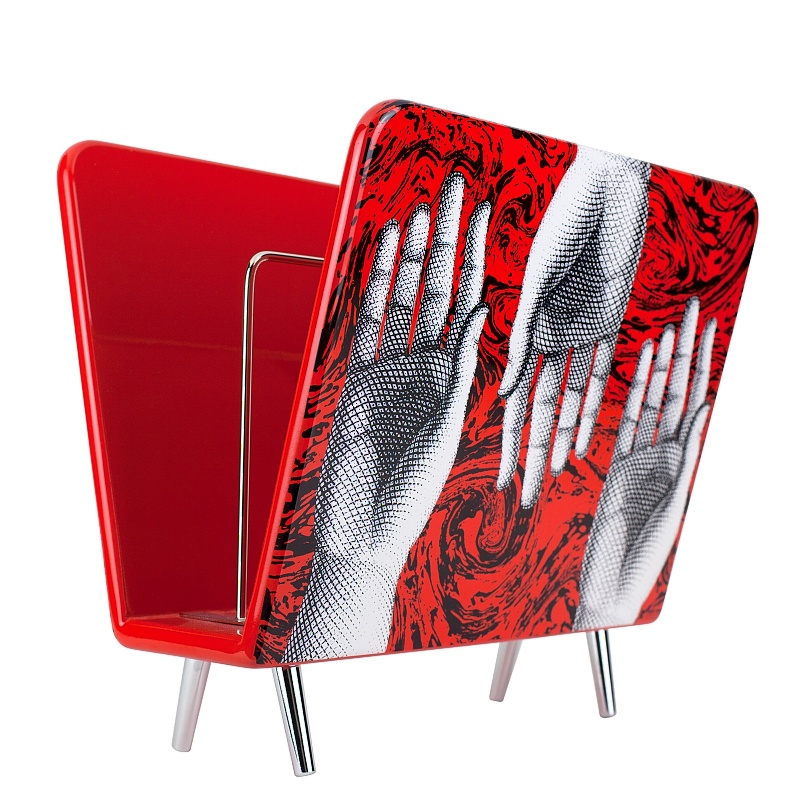 The collection comprises a variety of pieces, including limited edition furniture items, accessories and chinaware. Cilindro, Tamburo and Vetrina are containers distinguished by their cylindrical form and their all-round decoration; the sinuously shaped chair uses the silhouette of Don Giovanni; the screen, like a theatre wing, manages to transform the visual temperature of the surrounding space; while various accessories such as trays, magazine racks and paper baskets as well as plates, vases and other porcelain and glass table decorations complete the series.
Each object is produced according to the tradition that Barnaba Fornasetti has faithfully carried forward, making them a perfect expression of the balance between art and craft. Their expressiveness and their dual nature – on the one hand functional, and on the other cultural and poetic – gives the pieces in this collection the ability to imbue spaces with a visual rhythm and storytelling style that are vividly theatrical.
Words & Photos: Fornasetti Press