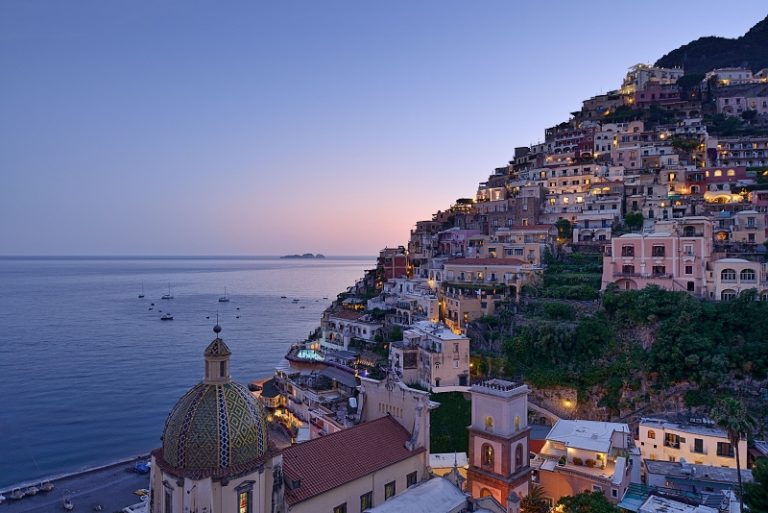 A fixed star between favourite and popular tourist destination, delightful enjoyment, romantics, azure sea, hidden mountain or fishermen's villages is, without any doubts, Italy – a country offering plenty of experiences and nice feeling of happiness.
If we are asked to define the most romantic destination in Italy, definitely there will be Amalfi Coast an irresistible and charming centre with a specific atmosphere has attracted many visitors. Who visits Campania region and discovers magic of the Amalfi Coast must fall in love with it at the first sight.
One of the most popular cities is Positano a jewel of the "Amalfi Coast" – there are thousands of visitors coming there every year – party lovers, groups of friends as well as families with children. This charming town attracts many celebrities too such as Penelope Cruz with her husband Javier Bardem. Positano is rich on magic coves, splendid villas you can rent and enjoy luxury all around. Town is surrounded by nice natural sceneries attractive both for those who enjoy sitting on the sun or those keen of active wandering.  Behind the Tre Ville Hotel there are hills of Nocelle Mountains inviting you to climb up and enjoy the panoramic view from their top. If you are shopaholics you can enjoy shopping in luxury boutiques. Here you will find out that even in a bustling Europe there is a serene place offering you silence and bringing peace into your mind.
Tourist Information
Where to stay
Pearl among hotels – Le Sirenuse
Le SIRENUSE is a magnificent place evoking love and peace just like Positano or Amalfi Coast itself. John Steinbeck, who visited this place in 1953, wrote: "Positano will bite you on deeply. This place evokes state of dreaming. When you visit Positano, you will ask yourself – is this real? When you leave it, you'll realize your stay was real."
Iconic hotel was established in  1951 by brothers Aldo and Paolo Marchesio together with Ann and Franco Sersalo who changed former summer residence into an iconic   hotel. In present time it offers 58 luxurious rooms and apartments situated about 70m above the sea level.  There is an oasis of peace and silence with a nice view of the scenery around.  Visitors not only find comfort and serenity here, they can also enjoy fun and entertainment.  Just have a glass of Champagne in The Champagne & Oyster Bar, or in the recently Franco's bar on the top floor of the hotel.
Villa Degli Oleandri, ideal for families  
One of the oldest and most popular hotels – ideal for families with children. It is located in the Bay and offering nice view from the hotel terraces.
Hotel, in which the partying is in – Palazzo Murat
Former "palace" as of 18th Century used to be a home of the King of Napoli, Giacchino Murato, brother-in-law of the French Emperor Napoleon. He was married with Napoleon's sister,  Caroline Bonaparte. It is a great choice for groups of friends as it breaths with partying atmosphere.  Visitors love to sit in the Palm garden or in the marvellous restaurant by swimming pool with a direct access to the bar and beach.
Where to eat
Ristorante Da Adolfo
Curiosity is the access to the restaurant – you can get there only by boat. It is located at the famous Laurito Bay. It became famous thanks to  its delicatessens and simple meals. Thereto you should add a special atmosphere and the result is a unique Da Adolfo name.
Where to shop
You should visit Solimene a ceramics manufacture  in Vietri Sul Mare  or  Cotto Rufoli factory in Salerno which has been by famous designers Dolce & Gabbana. In Cotto Rufoli  the wall ceramics has been manufactured since 1476 and you can find its products on many walls of houses in Amalfi.
In Positano just opposite to the Le Sirenuse Hotel is the Emporio Sirenuse boutique full of fashionable apparel and bath suites designed by Carla Sersale. We have good news also for those keen of silver jewellery and decorative items – you should visit Feludei boutique and you will be rewarded. La Botteguccia on the other hand offers handmade leather sandals which are very popular in Italy.
Tip for trip
Hire a yacht or boat in the Marina Del Cantone (Massa Lubrense) in order to see the seashore beauties from the sea.  There is a marvellous cave in Conca dei Marini which became famous by its emerald-blue water.  Together with its more famous sister Blue Grotto on the Capri Island offered a nice spectacle for eyes.
Michaela Mičátková
Photo: Profimedia, Peter Fritz, Press